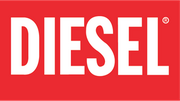 Diesel is a brand for clothes and a trademark owned by Diesel S.p.A., a clothing company from Italy. The brand is best known for its denim jeans, but is also used for jackets, shirts, other garments and accessories.
Products
→ see also Category:products
Products by Diesel include clothing and accessories for men and women. Some of these products are also available in the kid's collection for boys and girls.
In 1994, Diesel introduced a streetwear collection for adolescents called 55DSL. In 2014, the 20th anniversary was celebrated with a special fall winter collection. In 2015, however, the 55DSL collection was integrated into the main collection. Since then, it is no longer offered as a special collection.
Since 2007, Diesel also offers a special upscale collection under the sub-brand Diesel Black Gold.
A new fabric type invented by Diesel is the Jogg Jeans fabric introduced in 2011.
In addition to clothing and accessories, Diesel also has the product lines:
Living: Equipment for apartments and houses
Lifestyle: Products for expressing one's personal livestyle, among others helmets, headphones and bicycles
Advertising
→ see also Category:Advertising and Category:Models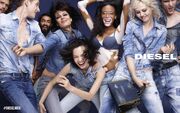 In addition to the conventional advertising using printed ads as well as TV & cinema commercials, Diesel is also very present on the internet and in social media. At the online store, visitors can suscribe for a newsletter sent by email.
Twice a year, a special advertising campaign is startet for the new spring/summer or fall/winter collection, sometimes preceded by a pre-spring or a pre-fall campaign.
Fashion shows
→ see also Category:Fashion shows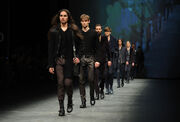 The new collections of each season (spring/summer or fall/winter of each year) are also presented at fashion shows.
Logos
External links