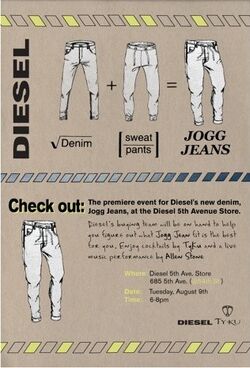 JoggJeans, also written Jogg Jeans or Joggjeans, is a type of fabric newly developed by Diesel. This fabric combines the techniques of denim and jersey. It therefore offers the stretch of jersey and the look and durability of denim.
Like denim, the JoggJeans fabric is mostly used for jeans from which its name is derived: jeans suited for jogging. However, alos other products like jackets or shirts are availabel in JoggJeans.
Description
JoggJeans is a unique fusion of design and a groundbreaking new fabric, that combines the iconic style and durability of denim with the relaxed attitude and comfort of sweatpants. It uses the same weaving method used to make denim, but with a special patented technique that makes it look like denim on the outside and like jersey sweatpant fabric on the inside. It combines the softness, lightness, comfort, look and feel of knitted jersey, but with the advantages of being a woven denim fabric. This means that it retains its shape better, and can be given stronger treatments and washes. It can even be broken, which can't be done with knitted fabrics.
JoggJeans was introduced by Diesel already in 2011[1], but the fall winter campaign 2013 was the first campaign in which this new kind of fabric was promoted.[2] Professional dancers were shown in a video and on photographs performing various dance moves from the 60es to modern NYC street dance in clothing made from JoggJeans. The new fabric was introduced as follows:
A cutting edge crossbreed between jeans and activewear, JoggJeans puts the durability of Diesel Denim jeans into motion. Crafted in a unique fabric that weaves together the style of denim with the versatility of jearsey, it's the original hybrid jean. You now have the freedom to move like never before.[3]
Some jeans styles such as Krooley are special JoggJeans styles. Also some of the other jeans styles are avaliable as JoggJeans. Some jeans made from JoggJeans fabric have an interior in a contrasting color. However, not only jeans are available in the JoggJeans fabric, but also other clothing such as jackets and shirts.
Gallery
Fall/Winter 2013 campaign:
Spring/Summer 2014 campaign:
Fall/Winter 2014 campaign:
Spring/Summer 2015 campaign:
Celebrities wearing clothing crafted from JoggJeans fabric
Videos
References
↑ Robert Johnston: Jim-jam jeans at www.gq-magazine.co.uk, July 1, 2011
External links
Community content is available under
CC-BY-SA
unless otherwise noted.